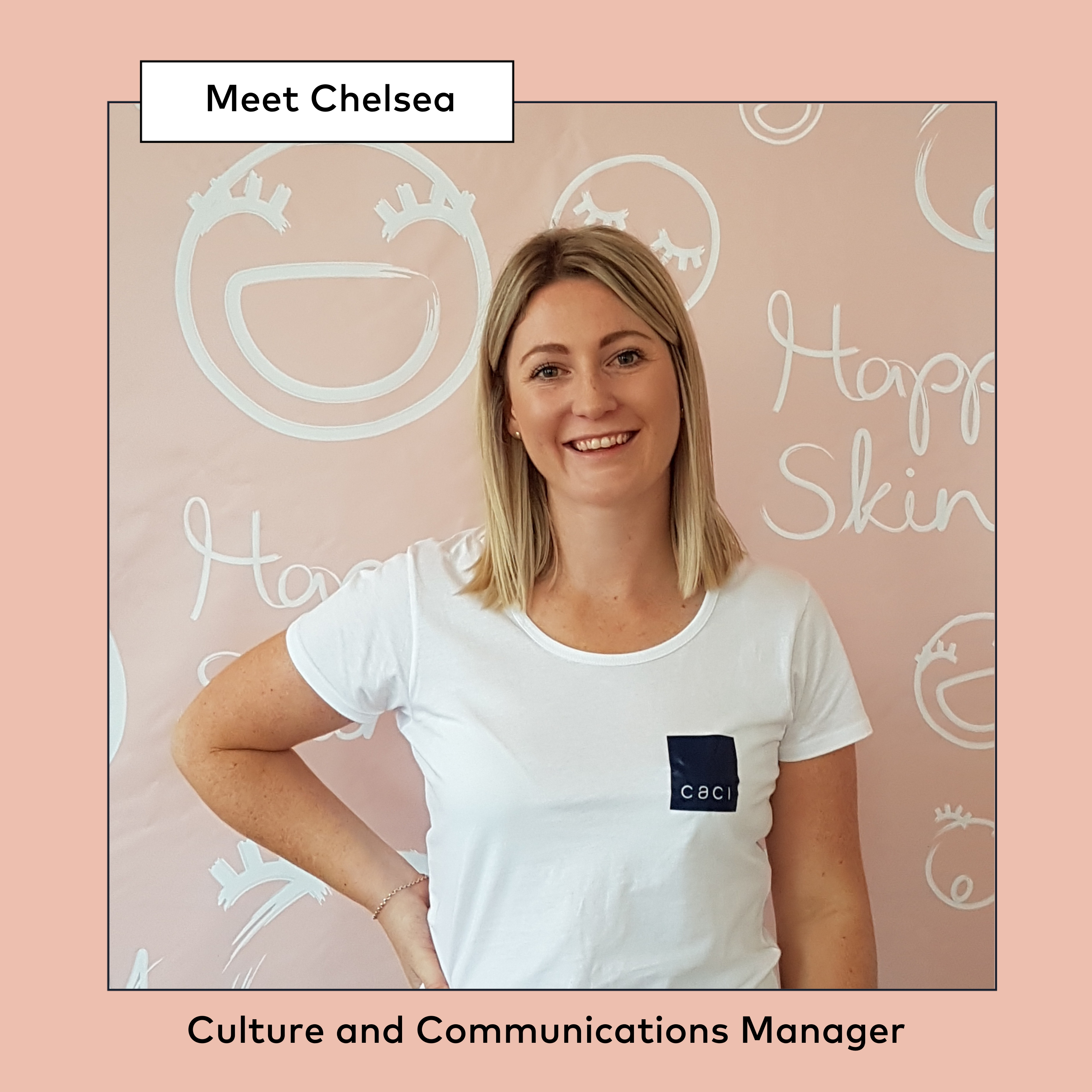 Meet Chelsea, our Culture and Communications Manager here at Caci!
 
Tell us a little bit about your background?
I've worked in marketing and communications across different industries, including sportswear, consumer technology and now in the skin and appearance business at Caci. My passion for communicating and connecting with others has taken me through various roles in my career, including product management, consumer/corporate PR, event management, and social responsibility, but ultimately it always comes down to building strong relationships with meaningful connections through communication ❤
How long have you worked at Caci?
I've been at Caci for 8 years now – best 8 years of my career, with many more to come!
Can you tell us a bit about your Caci journey since you've been working here?
I started at Caci (FAB Group) 8 years ago and my roles have evolved with the business needs over the years. FAB Group have an amazing ability to innovate and grow, and this has provided the people in the company, including myself, to develop in ways that may have not otherwise been possible. My role has transitioned through PR, events, marketing, copy writing, brand development, and culture and communications management. Over the past 8 years in the business, I've had the opportunity to spend a lot of time with Caci customers, our team across NZ and our Franchise owners in their own clinic environments, which has helped me truly understand our unique business and what makes it so special.
What do you bring to Caci?
A bit of fun, a loud laugh, a passion for connecting with others and a real commitment to the success of our team.
What do you love most about being a part of Team Caci?
I'm so proud to be part of such a big company!
What does #skinconfidence mean to you?
It's that feeling first thing in the morning, when I know I can walk out the door (or work from the home office) without covering up with makeup, a bit of blush and mascara and I'm happy with that!
Also, its having the knowledge and tools to take care of your skin at home – I've had the privilege of working with skin experts for 8 years, so have picked up a lot of knowledge along the way!
Primary skin goal or skin concern?
I had quite dark pigmentation on my face (mainly forehead), but after a course of photo rejuvenation treatment it's resolved, and I feel a lot more confident
Go-to coffee order?
Oat milk flat-white, thanks!
Holy grail product?
Skinsmiths Overnight Glow – hands down. Then very closely followed by the Murad Multi Vitamin Infusion Oil…if I could bathe in it, I probably would.
Favourite sport?
It's very topical at the moment, but I love watching the Olympics and Paralympics – I especially love watching sports that I'm not familiar with, I research the rules and criteria then really get into it!

 
At Caci we are always looking for passionate people to join our team. Are you interested in joining us at #TeamCaci
Discover our current job openings: https://lnkd.in/gveKkNJ