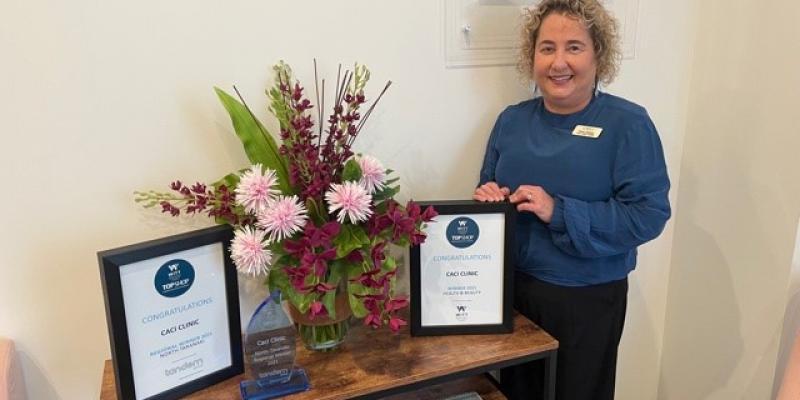 Caci New Plymouth are thrilled to have won both the Best Shop North Taranaki and the Healthy and Beauty category at the Taranaki Top Shop Awards—nominated initially as finalists by popular vote thanks to the New Plymouth community.
The WITT Top Shop Awards recognise excellence in customer service across several categories including: Large Format, Lifestyle and Leisure, Automotive, Health and Beauty, Specialty Store, Food and Beverage, Fashion, Footwear and Accessories and Accessibility. Nominations for finalists are voted by the community before they are mystery judged.
"From the phone call, to the in Clinic visit, I felt welcomed. I was greeted and looked after by friendly, informative & knowledgeable staff. They were considerate and discreet"—were the judges comments when announcing the win on Saturday night at The Devon Hotel. 
Caci New Plymouth know that looking great, is really about feeling great. They have fully embodied the Caci way by empowering their customers with the best advice, skincare and treatments, so they can feel confident in their skin. 
Owners Paula and Craig thank their amazing team and extend their gratitude to all of their amazing clients for their ongoing support. "Our customers are the reason behind winning these categories. We are so proud to have a part of the community and love seeing you walk in the door each day."
⁠
Paula and Craig would also like to congratulate all other winners and finalists and thank the Taranaki Chamber of Commerce and Western Institute of Technology at Taranaki for the incredible evening.